Scenario of Madrasah Education
Maintaining the tradition of Madrasah Education in the State, the Board at present working in the field of Madrasah Education to achieve four goals, namely (i) access and enrolment, (ii) retention, (iii) bridging of gender and social category gaps and (iv) quality education. Keeping in view the recommendations of National Curriculum Framework -2005, the International Commission on Education for the Twenty-first century, Madrasah Education Committee-2002, The Right of Children to Free and Compulsory Education Act-2009 and other Committees and Commissions aiming at to fulfill the demand of 21st century knowledge society, the Board has achieved the following considerable progress towards its goals which are being praised and accepted in National and International level.
Growth of Madrasah Education: At present, there are 614 recognised Madrasahs in our state. 102 Madrasahs are running under Senior Madrasah Education System and rest 423 Madrasahs are under High Madrasah Education System:
 423 out of 614 Madrasahs are High Madrasahs,89 Madrasahs are Junior High Madrasahs and remaining 102 Madrasahs are Senior Madrasahs.
77 Senior Madrasahs have been upgraded to Fazil (10+2) Madrasahs.
265 High Madrasahs have been upgraded to Higher Secondary (10+2) Madrasahs.
183 Madrasahs are running with Vocational Courses for skill development.
Out of total recognized Madrasahs 60 are girls, 550 are co-educational, 4 are boys and 17 are running under Urdu medium.
Type of Madrasah
1947-48
2010-11
2011-12
2012-12
2013-14
2014-15
2015-16
2016-17
2017-18
2018-19
2019-20
Jr. High Madrasah
90
110
114
114
109
109
108
98
89
89
89
High Madrasah
07
394
395
398
403
403
404
414
423
423
423
Senior Madrasah
02
102
102
102
102
102
102
102
102
102
102
H.S Madrasah
0
172
198
210
236
242
255
264
265
265
Fazil Madrasah
0
55
55
55
66
67
70
72
77
77
77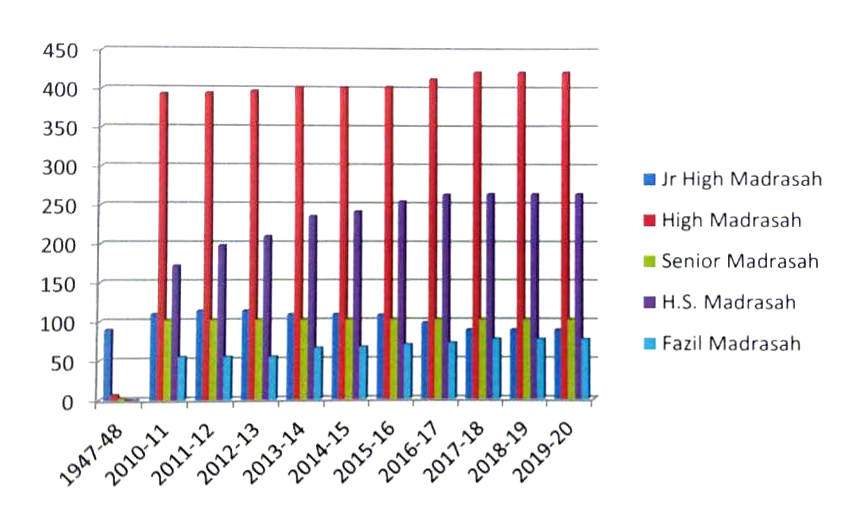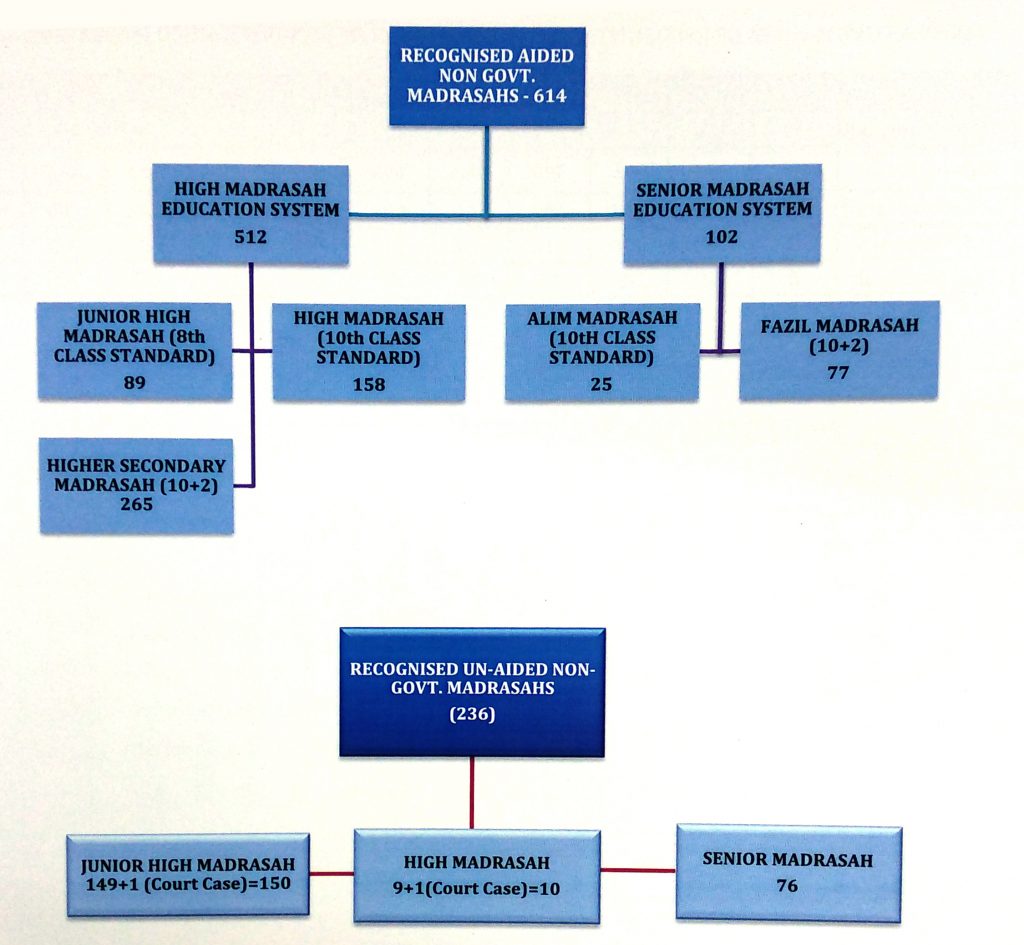 Secular character: The Madrasahs of West Bengal are open to all. Children from different social, economic and cultural backgrounds, disadvantaged, minority communities, landless and children with disabilities or special needs, irrespective of gender are enrolled to these Madrasahs. Any person irrespective of cast, creed and gender may be appointed as Teacher of the Madrasah (including Head of the institution), non-teaching staff and members of the Managing Committee. At present 17% students and 11% teaching and non-teaching staff of High Madrasahs and significant numbers of the member of the Managing Committee are non-muslims. In few Madrasahs muslim students are minority namely i) Orgram Chatuspallly High Madrasah (Burdwan) ii) Kasba MM High Madrasah (Uttar Dinajpur) iii) Chandrakona Islamia High Madrasah (Paschim Midnapore) iv) Dabra High Madrasah (Hooghly) and v) Sagar Moniruddin High Madrasah (South 24 Pgs.). Another remarkable fact is that a good number of students in a Senior Madrasah namely Panditpur Islamia Senior Madrasah in the district of Murshidabad are non-muslim. It disproves the anticipation that Madrasah imparts theology based education to a particular religion.
Universal and Equal Access: With a view to ensure right to free and compulsory elementary education of every child (RTE Act-2009) it has been stressed that no student will left outside the school due to financial constraints. The Madrasah Education up to class XII in all recognized aided institution is free. No tuition fee is charged. Also gender equity is maintained in a more effective manner. The comfort zone of the girl-child is being enhanced. The Govt. in Minority Affairs and Madrasah Education Department has allotted sufficient grants towards Girls Common Room, Toilet and Drinking Water, Mess and Hostel facilities and Girls' Incentives. From the statistics it is evident that more than 60% of the enrolled students in the Madrasahs are girls. Also a large number of students are first generation learner coming from socio-economically backward families.
Equivalence and convergence: The certificate of High Madrasah Examination (class 10th standard) is equivalent to Madhyamik Pariksha of West Bengal Board of Secondary Education and is recognized at the national level. Students passing out from here are not only eligible for admission to all Higher Secondary level schools through out the country but also may go for any stream they like. The class 10th public examination in Senior Madrasah system namely Alim examination is also equivalent to Madhyamik Pariksha. The students who pass out from those Senior madrasahs may opt for Higher Secondary level education in any higher Secondary schools under West Bengal Council of Higher Secondary Education and they may continue their higher studies in Senior Madrasah system pursuing theology along with others upto University level. The Fazil (10+2) examination under Senior Madrasah Education System is equivalent to Higher Secondary (10+2) examination of West Bengal Council of Higher Secondary Education. The Kamil [General and Honours (10+2+3)] and M.M. (10+2+3) under Senior Madrasah Education System are equivalent to General and Honours Graduate Degree and Post Graduate degree of any Indian University respectively. Thus the Madrasahs are well converged with the main stream education system of the state and students are free to move between two systems according to their choice. In this way the vertical and horizontal convergence and main streaming is well harmonized what ever may be the medium of instruction i.e. Bengali / Urdu.
Co-Educational status: 536 out of 597 recognised Madrasahs (including Senior Madrasahs) are co-educational. 57 Madrasahs are for girls and 5 for boys only. One of the four pillars of Education " Learning to Live together" is being nurtured with due care. The issue of gender disparity has duly been addressed. It is to be noted that the percentage of girls enrolment is nearly double than that of the boys in Madrasahs.
Balanced Curriculum: The West Bengal School Curriculum and Syllabus Comparability Committee 2002 has thoroughly revised the curriculum from Primary to Higher Secondary and submitted report to the State Government. The Board in consultation with academicians, subject experts and other stake- holders and in the light of the recommendation of the above mentioned committee, other Education Commission and Committees along with NCF -2005 keeping in touch with the syllabus of other national Boards / Councils has framed a balanced curriculum which is not only a unique blend of moral teaching – learning with modern science and technology based education but also a balanced blend of co- scholastic areas with scholastic one. Special emphasis has been given on peer learning and remedial lesson with the aim to successful implementation of the Continuous and Comprehensive Evaluation at Madrasah level.
Social and Personal Qualities: (Any one of the following is compulsory)
Health Awareness
Neatness and Cleanliness
Regularity and Punctuality
Co-operation & Sympathy
Work-discipline / Obedience
INTEREST (Any one of the following is compulsory)
Creative Writing
Drama
Speech
Debate
Recitation
Drawing and Painting
Travelling
Team Work
 Attitude: (Any one of the following is compulsory) Towards
Class-Mate /Madrasah Mates
 Teachers
 Self
Properties of Madrasah
Cultural function of Madrasah
Outdoor Activities : (Any one of the following is compulsory)
Games and Sports
Gardening
Social/ Community Services
Activities to control Environmental Pollution
Clearing garbage
Afforestation
Flexible Evaluation System: Competency based Continuous and Comprehensive Evaluation has been introduced since 2000. From the year 2007, the evaluation system has been made more flexible and more organized based on NCF-2005. Four co-scholastic areas namely social and personal qualities, interest, attitude and outdoor activities have been identified and introduced in the Madrasahs to inculcate value education among students. Four Terminal Tests followed by an annual examination have been designed throughout the year to evaluate the student's competencies and the remedial lesson. Weightage on each test / examination is considered for promotion of the students to next higher class. The subject wise syllabus has been divided into five terms. This has not only reduced the burden on the students but also enhanced spontaneous participation and encouraged joyful learning teaching. To keep parity with the State Board / Councils and the Central Board, the Grading System has been introduced from the year 2007.
For the larger interest of the learners of the Madrasahs, the West Bengal Board of Madrasah Education is following the instruction of the Govt. of West Bengal in Minority Affairs and Madrasah Education Department and has decided to bring back the Academic Session of the Madrasahs to January-December gradually. The Current Academic Session will start From February 1, 2011 and will be ended in December 31, 2011. The next Academic Session will start from January 2012.
Format of the grade
For Scholastic Areas
| | | |
| --- | --- | --- |
| Grade Scale | Letter-Grades | Performance-Descriptors |
| 90-100 | AA | OUTSTANDING |
| 80-89 | A+ | EXCELLENT |
| 60-79 | A | VERY GOOD |
| 45-59 | B+ | GOOD |
| 35-44 | B | SATISFACTORY |
| 25-34 | C | MARGINAL |
| Below 25 | D | DISQUALIFIED |
For Co-Scholastic Areas
| | | |
| --- | --- | --- |
| Grade Scale | Letter-Grades | Performance-Descriptors |
| 80-100 | A | EXCELLENT |
| 65-79 | B | VERY GOOD |
| 50-64 | C | GOOD |
| 35-49 | D | SATISFACTORY |
| 0-34 | E | MARGINAL |
To reduce the burden of learning the Board has bifurcated the combined syllabus of class IX and X. From the year 2012 the High Madrasah Examination (Xth class standard) and Alim Examination (Xth class standard) will be conducted following the syllabus of class X only.
In addition to above the following measures have been taken to establish and maintain fair and flexible evaluation system in Madrasah Education:
 Fifteen minutes extra-time to read the question paper and to write name, roll number on the answer- script
 Introduction of detailed examination calendar
 Abolishing of writing name of the examinees from the answer-scripts in all examinations, only Registration Number is being used for identification of the students
Introduction of mid-term compartmental Examination within two months from the date of publication of the PPR & PPS results.
PPR & PPS facilities extended to both pass and fail examinees
Use of computerized photos of the examinees on the Admit Card, Registration Card and Certificate, use of hologram on Certificate and Mark sheet for ensuring authenticity.
Quality Education: To face the challenges of the 21st century in context of globalization and to give the country a competitive advantage in all fields of knowledge, quality education in the institution is urgently required. To maintain quality education, quality teachers were / are selected through written examination, personality test and on academic qualification earlier by the School Service Commission, now by Madrasah Service Commission. To update knowledge and to promote the professional growth of teachers the Board organizes various in-service training programme from time to time. Equal emphasis has been given to promote cognitive, affective and psychomotor learning. Physical Education, Work Education, Life Skill and co-scholastic areas have been included in Madrasah curriculum. Due emphasis has been given to improve the infrastructure of the Madrasahs. The SSM is helping a lot in this regard. Top priorities are being given for healthy sanitation and drinking water facility, library and laboratory facilities to all the Madrasahs. About 81 Madrasah Complex (cluster) have been formed to enhance the quality through mutual exchanges and sharing of resources among the Madrasahs. For quality evaluation, the Board introduced Competency based Continuous and Comprehensive Evaluation and Grading System. Peer Learning and Remedial Lesson have been introduced to improve the learning level of the students.
Equality and Uniformity: The recruitment process, essential qualification and service conditions of teaching and non-teaching staff of Madrasahs and Schools are same. The staff of Madrasahs and staff of schools both enjoy similar pay scales, retirement benefits and other facilities like leaves, in-service training etc.
Democratic Character of Managing Committee: The Management of the Madrasahs are controlled by the Managing Committee (MC) and the MC is formed following the Management Rules for Madrasahs framed under the West Bengal Board of Madrasah Education Act 1994. The MC consists of representatives from the Guardians, Teaching and Non-Teaching Staff, Panchayet Samiti and the Govt. The Head of the institution is the Joint Secretary of the MC. Thus the management is well balanced and true democratic character is maintained.
Vocational Education: In collaboration with Department of Technical Education, 156 Madrasahs are running with Vocational Education and Training.
Socialisation (community linkages): The Madrasahs are linked to various social programmes under the leadership of the West Bengal Board of Madrasah Education. The Board has organized :
Health awareness programme namely the Adolescence, Reproductive and Sexual Health / Adolescence Education Programme with COBSE (Council of Boards of School Education) has been implementad.
Health Promoting School with UNODC (United Nations Office of Drugs And Crimes) have been undertaken to promote the health awareness among the students, teachers and community as a whole.
A health guidebook entitled "Apnar Santanke Apni Janun" (know your child yourself) has been published for the parents and teachers.
The West Bengal Board of Madrasah Education has actively participated in the campaign against Anti Terrorism Rally held on 20.01.2009 from Urdu Academy, Kolkata to Haj House, Kolkata.
A seminar on 'Swasthya Sachetanata O Sikshak Samaj' has also been organized by the Board to promote awareness on health issue.
To enhance the quality and stop drop out at Madrasah level we have also arranged for holding the meeting of Mother Teacher Association twice in a year.
 The Board observes the birth anniversary of Moulana Abul Kalam Azad on 11th of November in every year and two awards, namely Moulana Abul Kalam Azad and Begum Rokaiya award are given to an individual and an organization respectively for their remarkable contribution towards society specially for Minority Development. In the year 2011 the 123rd birth anniversary of Moulana Abul Kalam Azad was observed on 11-11-2011.
The Board in collaboration with The State Madrasah Games & Sports Committee organizes The State Level Games and Sports for Madrasah students every year. In the month of February, 2012 the 4th State Level Madrasah Games & Sports will be organized during 16-19 February 2012 at Yuba Bharati Krirangan, Salt Lake City, Kolkata.
All the recognized Madrasahs observe Independence day, Republic day, Netaji's Birthday, National Education Day, Gandhiji's Birthday, Fateha Dawaz Dahm etc. and also organize annual sports and annual cultural function involving the guardians, teachers, students and community as a whole.