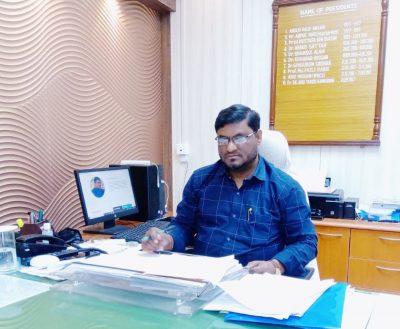 It pleases me immensely to welcome all visitors with warm wishes to the Board 's website which is well designed , updated and easily accessible and wiil serve and satisfy the viewers .
It envisions modernization of education with basic knowledge in Arabic keeping parity with the syllabi of the West Bengal Board of Secondary Education and enjoys the patronage of the Government of West Bengal. The doors of Madrasahs are open to all castes and creeds as the Board ensures universalisation of education. We can boast of the girls who constitue almost 62 % of total roll strength and 16% non – Muslim students who study at our Madrasahs without any barriers or discriminationTo impart quality education with co-curricular activities and use of updated tools and techniques wins recognition from various Boards and Universities across the country and simultaneously we provide "different trainings to our teachers. Technology based Education like computer literacy attracts learners and their parents too.
Its innovative initiatives like to promote Polio Eradication Programme, Routine Immunization Programme. Meena Manch receives high acclaim and received appreciation from UNICEF.
The Board always strives to keep its different committees embellished with valuable recommendations from NCERT, SCERT and COBSE.
The quality education with moral teachings and social engagement of the Madrasahs gave birth many of eminent personalities who had illuminated themselves in various disciplines and contributed a lot for the welfare of the nation and as well as society.
The Board has instituted two awards named after Moulana Abdul Kalam Azad, an eminent freedom fighter, scholar and the first Education Minister of the country and Begum Rokeya, an educationist and a great reformer of the society. These annual awards are conferred to the eminent scholars and social activists. 
Our website will provide all the information, notifications, schedules of examinations, Memos, orders, course contents etc. We will update it and make it easily accessible to all.
 Looking forward to receiving suggestions from all corners.
My  thanks to all the visitors of our website.